Where Should I Get My Trucking Industry News?
Updated: Apr 28
As a truck driver, it's important to stay up to date on what's going on in the industry. It's also important you are getting your news from reliable sources that are honest, transparent, and report the news in depth.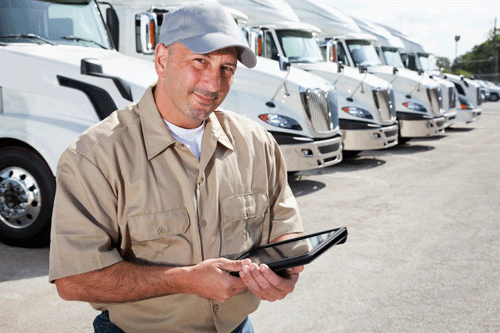 If you have been in the trucking industry for a while, you probably already have a place where you like to get your news. However, if you are new to the industry or just looking for more options, you may not know where to start. Let us help you out with our list of sources to get your trucking industry news.
Overdrive
Overdrive Magazine was started back in 1961. They are devoted to covering and supporting the businesses of owner-operator truck drivers. You can receive news from Overdrive on their website, their newsletter, any form of social media, and you can subscribe to a hard copy of the magazine for free. The website is sorted into many categories including News, Blogs, Life, Custom Rigs, Equipment, Business, Regulations and Gear.
ATBS partners with Overdrive to help educate owner-operators through the Partners in Business program. Each year ATBS and Overdrive produce a Partners in Business Manual and host seminars at the Great American Trucking Show.
CCJ
Commercial Carrier Journal (CCJ) is another business publication for the trucking industry and fleet professionals. They focus on providing business solutions for those responsible for running trucking companies and maintaining equipment. Like Overdrive, CCJ offers a website, a newsletter, and a free subscription to a hard copy of their magazine. The categories included on the CCJ website are News, Equipment, Business, Tech, Products, Blogs, Reviews, and the Tech Toolbox.
CCJ also has their Top 250. This is a list of the top 250 trucking companies in America. Within this ranking, you can sort the companies by revenue, numbers of trucks and drivers, types of haul, geographic region, etc. Both Overdrive and CCJ are published by Randall Reilly.
Land Line
The first issue of Land Line Magazine was launched in 1975 after OOIDA needed its own way of communicating news to professional truck drivers. Today, Land Line continues to serve its original purpose of bringing solutions to owner-operators. Land Line's website is simply broken out into News, Opinion, Podcasts, and Archives.
The News section is divided into specific news by state. The Opinion section is called Tandem Thoughts and goes into Land Line's opinion on certain relevant topics. Land Line also has a Podcast called Land Line Now that is hosted by Mark H. Reddig. You can hear Land Line Now on iTunes, Stitcher, Bullhorn, and on Sirius XM Channel 146. Lastly, Land Line keeps an archive of their old magazines that you can look at by simply downloading the PDF.
Transport Topics
Transport Topics shows all aspects of the business of trucking. They want to deliver two things to their readers: clarity to make good decisions and confidence to engage with colleagues. The website categories include Government, Business, Technology, Equipment, Safety, Fuel, Logistics and even Autonomous. They also rank the Top 100 For-Hire and Private Companies and the Top 50 Global Freight and Logistics companies.
Transport Topics provides many ways for you to listen to their news as well. They have a podcast called RoadSigns that is broken up into seasons. The latest season of the podcast is all about Aerodynamics and Fuel Economy. They also have Daily Briefings which is a quick rundown of all the news that you need from the day. Lastly, they have a show on Sirius XM hosted by Dan Ronan. The show initially airs on Saturday from 1 - 3 PM ET but it reruns on Saturday night, Sunday afternoon, and Sunday night.
10-4 Magazine
10-4 Magazine has been around since 1993. They have a physical magazine that is released each month but the magazine can also be viewed digitally on the website. Each of the articles within the magazine is displayed on the website and you can also call to see what locations you can pick up a physical copy of the magazine for free. On the website, you can look at archived articles that are sorted by category. The website also includes a list of Truck Shows & Events, a Gallery of old magazine covers & centerfolds, and has an Entertainment section with Truckertoons and Words to live by.
FreightWaves
FreightWaves is a news source for the entire freight transportation industry, not just trucking. However, there is plenty of information on trucking and how the trucking industry ties into the freight industry as a whole. FreightWaves focuses on economics and the technological side of the freight transportation industry.
The website includes news about freight markets, finance, risk & compliance, insights, innovation and partner content. You can also filter your search into specific modes of transportation including air cargo, container, maritime, railroad and trucking.
Like many of the other industry news sources, FreightWaves has a show on SiriusXM. Their show is on Saturdays from 3 - 5 PM ET on Road Dog Trucking Radio. They also post their own insightful video content called FreightWaves NOW, which is directly on the website. Lastly, there is a variety of podcasts that they host from shows, to deep-dive conversations, to daily mini podcasts that goes into the top headlines for the day.
RoadKing
RoadKing Magazine has been a source of information and entertainment for truckers for over 50 years. They focus on all of the stories and issues that affect truck drivers. Each issue of the magazine includes tips, driver profiles, truck parts, and articles purely for entertainment. The physical copy of the magazine is published every two months and is free at over 255 TA and Petro Travel centers. It's also free for everybody right on the homepage of the website or if you want a copy of the magazine sent directly to your email, they make it easy to sign-up so that you never miss an issue.
The website is broken down into multiple parts including trucks, truckers, lifestyle, news, truck stops, and past issues. Each section includes the latest and most popular stories along with popular comments.
Fleet Owner
Fleet Owner is a trucking news source specifically for executives and managers of trucking fleets that operate five or more vehicles. Their main focus is on information about operations, vehicle maintenance, industry regulations and information-management technology. On top of this, they also report on the latest trends in hybrid technologies, diesel fuel economy, trucking safety, jobs and employment.